Roll a Blunt Wrap Like a Pro in 5 Steps
Estimated reading time: 7 minutes
Do you want to learn how to roll the perfect Backwoods Blunt? Read this step-by-step Rolling guide to be an professional Blunt Roller in as little as 6 minutes. The best Cigarillos & Cigars to roll a Blunt can be in different materials, sizes, qualities, and flavours. Depending on method, quality, and technique; your results to roll a blunt may vary. If you are an experienced 'toker, you might know the popular blunt wraps brands like Swisher Sweets, High Hemp, Backwoods, Tropical Fusion, or Dutch Masters.
Rolling Backwoods Blunts Instructions
While natural blunt wraps deliver a range of effects with delightful taste, some prefer tobacco-infused wraps to get a different sensation. Tobacco is Harmful to your Health!.
Backwoods tobacco cigarillos are a considered a premium quality cigar. They are expertly crafted with high-quality tobacco within them; but many cannabis smokers prefer to swap the tobacco for marijuana and roll a blunt.
Enjoying a Backwood blunt can give you an incredible smoking experience. All you need to do is carefully remove the tobacco and fill with your favourite weed, then reseal & roll the blunt.
Step By Step Guide to Roll A Backwoods Blunt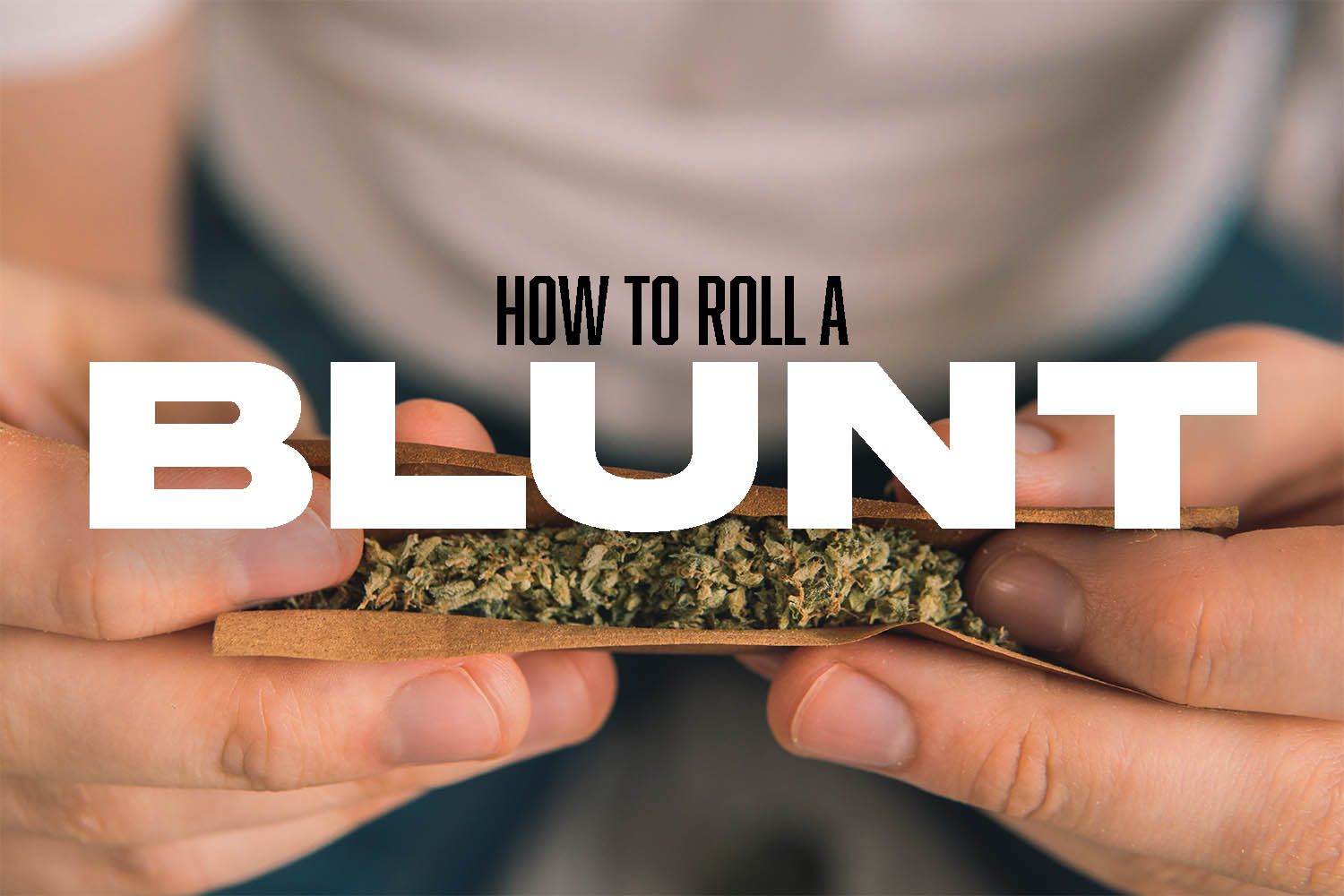 Rolling a blunt seems frustrating but with the proper technique and practice, you will become an expert Blunt Roller in no time. Just follow the 5 steps below and see how it goes.
Step-1: Grind your weed:
You don't need learning on how to grind up cannabis as it's all in the technique. There are many high-quality grinders available to make things easy and quick. You can also use your fingers to smash up buds or find quality shake to use. You will need at least two grams of weed to fill in the backwoods wrap. After the herb is ground up, make sure the to inspect it is ground up evenly, as it will give you smoother smoke on every toke.
Step-2: Opening up the Backwoods:
Rolling a Backwoods Blunt takes patience to open it up without tearing unevenly, and then emptying the tobacco. Go slowly, or you might tear the wrapping leaf and make re-wrapping more difficult. Do not hurry, you need the patience to open it up without mistakes.
Use a small knife or blade to open the Backwoods cigarillo, and make one straight insertion across. Some people can even use their thumbs to open the Cigarillo when you become more experienced.
Step-3: Empty the tobacco:
Once the cigar is opened, you can empty the tobacco from the wrapper. If you do not mix tobacco with your cannabis (most people do not), then discard to tobacco completely.
Step-4: Fill the flattened leaf:
When you empty the tobacco leaf from the Backwoods wrap, then straighten the wrap and make sure it is slightly most and not brittle. Fill your ground up marijuana shake into the Backwoods wrap. Insert a cardboard filter to enjoy smooth hits and prevent any leaf from being inhaled later on when smoking.
Step-5: Packing the Backwoods blunt:

When you go to fill the blunt wrap, you need patience and practice. Initially, fill as much cannabis shake into the wrap as you can. You can hold the blunt wrap with one hand by the filter to gain control. Use your other hand to keep the bud in place while slowly rolling the otter wrap around shake. Roll it slowly & carefully until you get to a roll.
When the roll is ready, apply saliva or liquid (water) on the edge of the Backwoods blunt wrap and seal it quickly so the herb doesn't fall out. You can also use THC oil to moisten the edge and add potency. You can use a lighter to carefully dry the most wrap to reseal the Blunt Roll. Be careful not to over burn the blunt and just lightly dry the sealed areas.
Enjoy The Final Toke:
You don't need a perfect tube-shaped roll to light it up. After all, we do it to enjoy weed in a cigar blunt, and uneven shape doesn't make a difference in effects or taste.
Moreover, dry down your Backwoods blunt a bit by providing quick flames from the lighter (without burning it down yet, of course!). 
Tools to Roll a Backwoods Blunt
We've compiled a list of items you need to start rolling your Backwoods Blunts.
A clean tray to work (optional)
Blade or small knife (optional)
Grinder (optional)
Paper towel & water (optional)
Backwoods Cigarillos
Favourite Cannabis
After you gather all these necessary items, then you need to do is start practicing. You might fail in your first attempt, but practice makes perfect!
Get High With Backwoods Blunts Like Never Before
Now that you know how to roll a blunt, you can finally blaze up! Smoking weed in a Backwoods wrap is a great experience that many prefer over joints. You don't have to use Backwoods Branded cigarillos, many Hemp based or even THC-infused wraps will do!
Once you start rolling a Blunt; you may never stop! Enjoy your efforts and share your new found talent of Rolling a Blunt with your friends!
Final Thoughts on How to Roll a Backwoods Blunt:
The Backwoods cigarillos are machine-made with Caribbean Cuban tobacco. Unwrapping a Backwoods cigarillo and replacing it with your favourite cannabis strain is a delightful time. If you don't succeed on the first attempt, don't be detered, let your expertise grow naturally. Once you get good at Rolling Blunts, you can roll a Backwoods blunt for others who can't!
Backwoods offers high-quality cigarillos that are in high demand for rolling Cannabis Blunts.
Why Do People Like Backwoods Wraps for Blunts?
Backwoods are all-natural cigars, good quality wraps made from 100% raw tobacco leaves. This is a premium smoking experience, as they are made in the USA. The manufacturer keeps the tobacco for an entire year during the aging process and then uses the then aged tobacco to make Backwoods cigarillos. This proper curing method enhances the quality, taste, aroma, and& overall effects of the blunt wrap much richer.
Backwoods blunt wraps are highly sought after, as many enjoy rolling it with their favourite cannabis strain! Now that you know How to Roll a Blunt, try to roll a few Backwoods blunts and enjoy a blunt session with your friends!
For informational Purposes Only! Tobacco & Smoking is harmful to your Health. Please consult your Medical Doctor before consuming any products that may be harmful to your health!
Rolling a Backwoods Blunt FAQ